Marshall Auto Body, Waukesha
Celebrate with Us!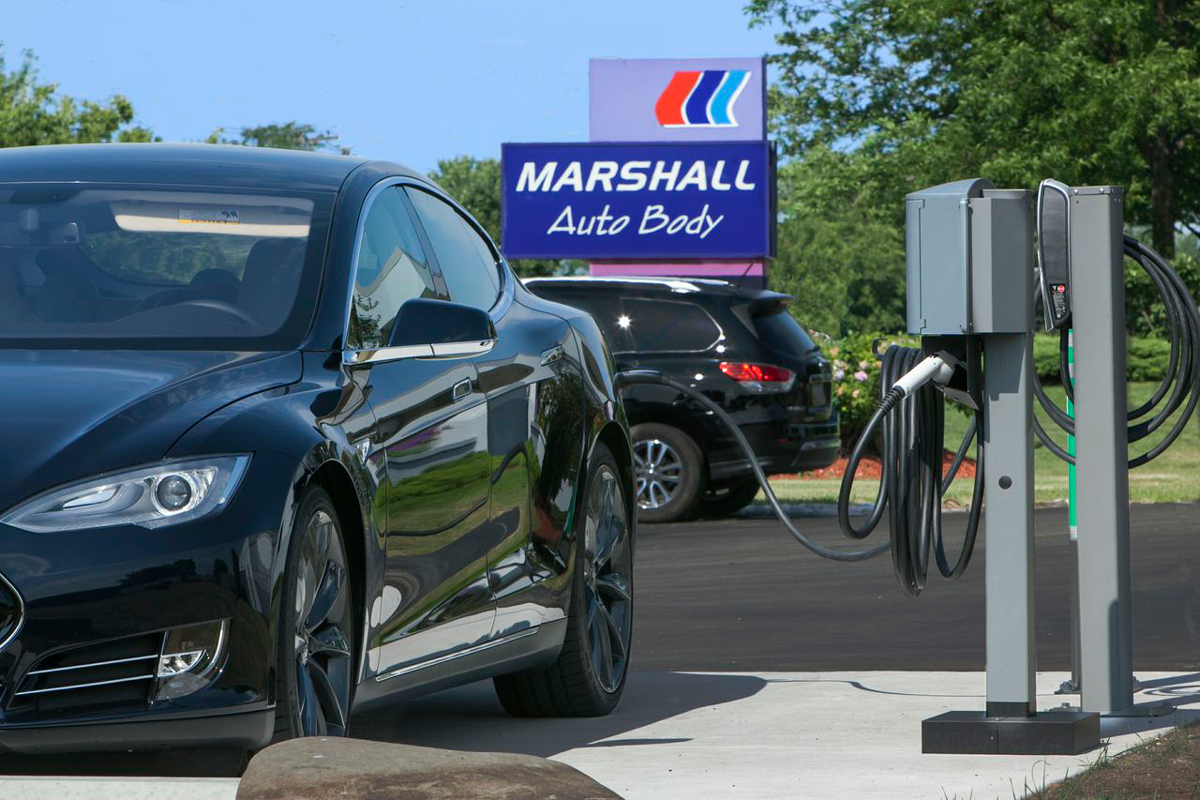 The Sierra Club invited Marshall Auto Body to host the third annual National Plug In Day event for Southeast Wisconsin.  Plug In Day celebrations will be taking place throughout the weekend of September 28 - 29 across the US and other countries.
The event will take place from 1:30-3:30 PM on Saturday September 28 and will entail an awards ceremony giving clean transportation leadership awards to:
Marshall Auto Body (for being an electric car charging site and investing in solar)
Electric Charge Mobility (Dave Hansen, for promoting EV's and selling charging stations)
Milwaukee Office of Sustainability (for promoting various forms of clean transportation and installing electric charging stations at public sites)
The awards ceremony will be held outside with a portable podium and PA system. Following the awards, we are hoping that local EV & Hybrid dealer's will offer test drives of the Leaf, Volt, etc. for interested attendees for an hour.
Local EV and Hybrid dealers including Zero & Brammo Motorcycles, the Sierra Club and Student Coalition Members, the public and several area Tesla owners will be attending this event. The media will also be invited once we have a final commitment from everyone.
We offer EV charging and have a HPWC and Clipper Creek CS-100 charger available 24/7 at no cost.  Marshall's is trained in aluminum structural vehicle repair and is the only authorized Tesla Motors repair facility in Wisconsin and the first of four shops in the United States invited to participate in a two week certification program (August-2013) by Tesla Motors at their California facility.
If you or anyone you know is an owner of an EV or Hybrid and would like to attend, please register below to let us know you are coming.  We will make every effort to insure that we have a parking space for you at the event.  Even if you don't own an EV or Hybrid, we welcome you to come and hang out if you are in the area.
Please Register to attend this event (with or without an EV or Hybrid) and don't forget to  Spread the word!
National Plug In Day - Midwest - Greater Milwaukee Area
http://www.pluginday.org/event-attend.php
Sierra Club - John Muir Chapter will celebrate National Plug-In Day with an Awards Ceremony and EV Expo Event September 28, 2013 from 1:30-3:30 PM at Marshall Auto Body, . .
National Plug In Day takes place September 28 and 29 Autoblog (blog)
Test drives, tailgate parties and recharging demonstrations will all be part of the shindig, which will include models such as the Nissan Leaf, Tesla Model S and ...
We optimistic that this will be a successful event and hope you can be a part of the success.